La identidad del set número 150 de LEGO BrickHeadz se rumorea que será un personaje de las series Star Wars: The Clone Wars y Star Wars Rebels.
El año pasado LEGO realizó una encuesta preguntando que saga temática merecía ocupar el puesto número de 150 de LEGO BrickHeadz. Con cuatro opciones sobre la mesa: Star Wars, Tiburón, Minecraft y Lilo & Stitch, y más de 13.000 votos, finalmente Star Wars fue la opción ganadora.
Un grupo de fans de LEGO Star Wars hicieron campaña en línea para que fuera una figura BrickHeadz de Jar-Jar Binks, pero finalmente el usuario de instagram @lego_club_news ha desvelado que el BrickHeadz número 150 será Ahsoka Tano.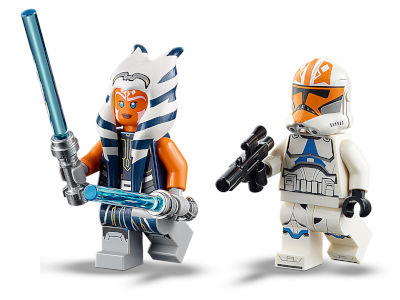 Aún no sabemos en qué versión de Ahsoka se inspirará el BrickHeadz: en su aparición en The Clone Wars, en Rebels o su pequeña incursión en The Mandalorian como una actriz de carne y hueso.
Los recientes sets Tanque Blindado de Asalto (AAT) (75283) y Duelo en Mandalore (75310) basados en Star Wars: The Clone Wars, apuntan a que la figura BrickHeadz podría estar inspirada en la primera aparición de Ahsoka Tano.
Todavía no sabemos cuando este BrickHeadz llegará a las tiendas, pero será un gran adición a la colección de funkos de LEGO. Por ahora, la identidad del próximo LEGO BrickHeadz de Star Wars sigue siendo sólo un rumor hasta que se confirme oficialmente por LEGO.